TIMA Research and Development
TIMA Foundation has been supporting the medical research and development, which large pharmaceutical companies do not handle, such as, the gene therapy for glioma brain tumor, the research to reduce alcohol health hazards, the research on diabetes metabolic syndrome, the suppression of reactive oxygen species (anti-aging), the development of new antimicrobial drugs without drug resistance, and so on.
These research led by Haruhiko Inufusa of TIMA Japan resulted in the remarkable achievements.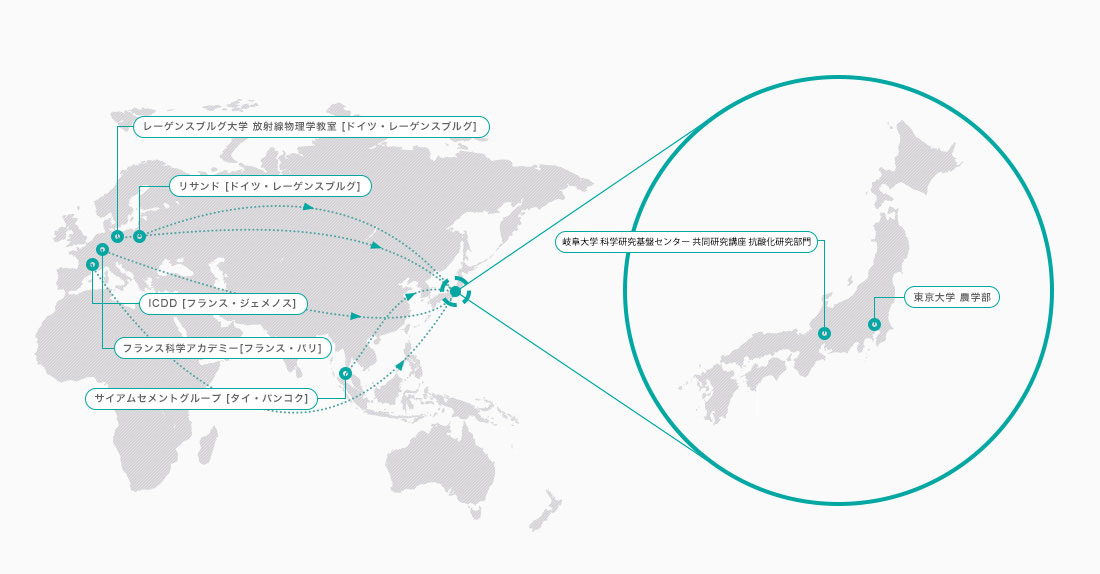 Cooperative Research Organizations
Japan
Faculty of Agriculture, University of Tokyo
the Antioxidant Division
Department of Neurology and Neuroscience, Okayama University
Overseas
Radiation physics study, University of Regensburg,
Germany
French Academy of Sciences (Académie des sciences) Paris,
France
Lysando, Regensburg,
Germany
The Siam Cement Group,
Bangkok, Thailand
ICDD, Gemenos,
France
Studies at the Antioxidant Division
Haruhiko Inufusa, a specially appointed professor of Life Science Research Center leads the team and cooperating with antioxidant research organizations all over the world.
Improvement of diabetes using diabetic mice⇒Prevention of diabetes and improvement of symptoms
Reduction of oxidative stress by radiation⇒Reduction of health hazard caused by radiation exposure
Rejuvenation of aging mice⇒agerasia / anti-aging
Reduction of alcohol oxidative stress using mice⇒Reduction of health hazard by alcohol
Suppression of proliferation and metastases of cancer cells ⇒ Therapy and prevention of cancer
Therapy with the model of ulcerative colitis mice: Therapy of inflammatory bowel disease and improvement of symptoms
Followings are cooperative research
Therapy of mice cerebral infarction(The effect has been already confirmed in the pilot study.)
(cooperative research: Professor Koji Abe, Department of Neurology and Neuroscience at Okayama University)
Study of protective action of mitochondria using cultured cells
(cooperative research: ICDD France)