SUPALIV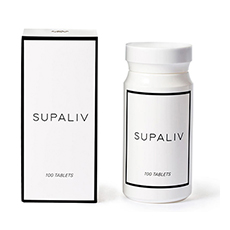 SUPALIV is TIMA Group's first product selling in Japanese market.
Innovative supplement, whose component combination acts to alcohol metabolic cycle.
8 kinds of natural components
| | |
| --- | --- |
| Vitamin C | produced by fermenting sugar |
| L-glutamine | produced from molasses, rice, corn and things like that |
| L-cystine | produced from chicken meat |
| Coenzyme Q10 | produced from nightshade vegetables |
| Succinic acid | obtained by grinding amber and distilling them in sand bath |
| Fumaric acid | aromatic hydrocarbon |
| Vitamin B2 | produced from glucose |
| Niacin | produced from the amino acid tryptophan |
SUPALIV birth story
In 2003, at the harvest festival in famous winery of Count de Greiffenclau. A Japanese lady consulted with Markus Count Matuschka de Greiffenclau, host of the harvest festival. She loves wine but gets drunk soon.

Markus Count Matuschka knew that asian people are weak to drink alcohol and some of them cannot drink at all. He made a proposal to develop a supplement which would permit weak people to drink to enjoy wines.

Markus Count Matuschka consulted with his friend Haruhiko Inufusa (Physician, doctor of medicine) about developing an alcohol metabolism supplement. Dr. Inufusa, who presented papers about the workings of alcohol and immune cells at academic conferences at that time, started to research alcohol metabolism.

After that, the research and development team led by Dr. Inufusa performed lots of clinical researches and acquired several patents.

SUPALIV was commercialized in 2011 and was on sell in Japan.
Package Design
Mr. Issei Kitagawa (GRAPH head designer)
Appeared on TV program "Cambria Palace" (TV Tokyo) and NHK and Fuji Television Network TV programs many times.
Member of Alliance Graphique Internationale, the world's best designers' organization.
JAGDA new face award, TDC award and many other awards.
By pursing arts of "printings that cannot be abandoned" and proposing "design as management resources" in stand on the point of views of both of manager and designer, he is supported by lots of clients from local small and medium-sized enterprises to foreign famous luxury brands.
About Crest
On SUPALIV's package, the crest of Count de Greiffenclau, who has carried on wine making from the age of Charlemagne, is printed.
This is because the research and development of SUPALIV were started by the proposal of Markus Count Matuschka de Greiffenclau, present chief director at European Medical Foundation TIMA Foundation and head of Count de Greiffenclau.

Lineup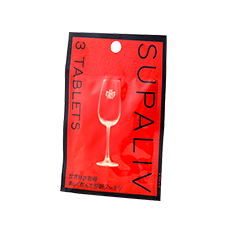 3 tablets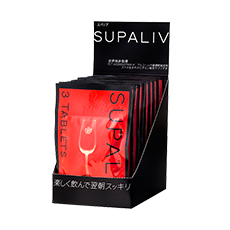 3 tablets
× 10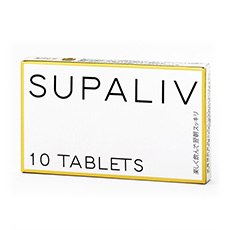 10 tablets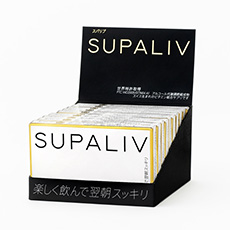 10 tablets
× 10 boxes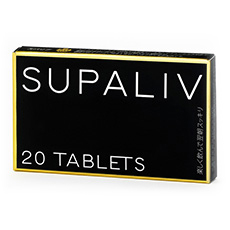 20 tablets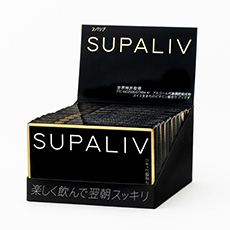 20 tablets
×10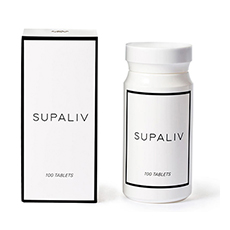 100 tablets bottle